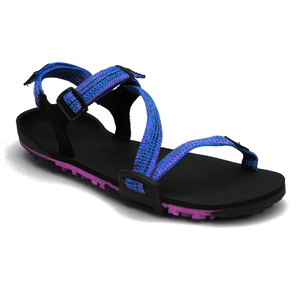 Xero Shoes Z-Trail EV Sandal - Bright Blue
Regular price $79.99 Sale
Feel the World®!  The women's Xero Z-Trail EV sandal offers the perfect blend of protection, comfort, flexibility, durability, and versatility. This sandal is as close to barefoot as you can get without actually being barefoot. This style provides all the benefits of allowing your feet to be in their natural state but with a bit of added protection. The Z-Trail EV is designed to wear while doing almost anything:  hiking, jogging, canoeing, walking, the list goes on and on!
Features:  
Nylon webbing sourced from recycled water bottles

Adjustable Z-pattern strap for a perfect fit

Zero Drop

BareFoam™ comfort layer

TrailFoam™ midlayer

FeelTrue

™ rubber grip pods

11mm FeelLite™ outsole provides protection without sacrificing ground feel

Heel cup that deflects debris

Women's 7 is 4.3 ounces each

Vegan friendly
This item is on "Our Last Pair Rack'' at one of our brick-and-mortar stores, it may ship without its original box and packaging. It may have been tried on in our shop and show minor signs of wear. If you have specific questions about the condition of this shoe, please feel free to call us at 303-449-5260 or email us at customerservice@pedestrianshops.com.