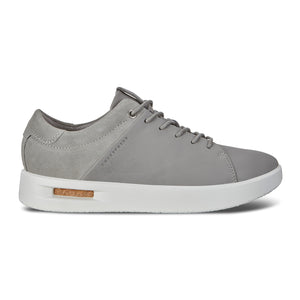 Ecco Corksphere 1 Tie Sneaker - Wild Dove
Regular price $159.95 $99.95 Sale
The women's Ecco Corksphere 1 tie lace-up is the ultimate in new scandinavian design. This sophisticated sneaker is casual yet presentable. The FLUIDFORM™ one-component P.U cupsole platform offers the perfect balance of cushion and rebound - making for an incredibly comfortable experience.
Features: 
Premium, rich and shiny leather which provides an extraordinary look with mixed materials in full grain and nubuck
Leather-lined for a rich look and feel, ensuring perfect inner climate
'Visible tech' window further highlights the presence of the self-customising cork within the sneaker
Self-customising cork inlay sole, with extra foam throughout, offers more immediate wearing comfort that shapes to your foot over time

FLUIDFORM™ one-component P.U cupsole platform outsole
Style Number: 27118355915
This item is on "Our Last Pair Rack'' at one of our brick-and-mortar stores, it may ship without its original box and packaging. It may have been tried on in our shop and show minor signs of wear. If you have specific questions about the condition of this shoe, please feel free to call us at 303-449-5260 or email us at customerservice@pedestrianshops.com.